About Our Company
In the year 2012 our company,
Aman Industries
, came into existence and since then is constantly known as a proficient
Manufacturer, Supplier, Trader and Service Provider
in the industry. Our Range of products
including

Pre-fabricated and Portable Structures
such as
Office Containers, Portable Office Cabins, Prefabricated Office Cabin, Toilet Cabins, Security Cabins, many more.
These portable structures are made of supreme quality and environment friendly materials like
MS container, MDF board, electrical items, etc.
, that are obtained from trusted market sources.
In schools, offices, countryside, factories, malls, hospitals, colleges, toll booth and many such places, our portable cabins such as Portable Office Cabins, Prefabricated Office Cabin, etc find their use. These cabins are manufactured in varied sizes depending on the requirements and are fitted with electrical, plumbing and allied facilities. We provide these cabins on rental basis as well and carry out their Installation, Logistic, Office Interiors and allied works. The USPs of our manufactured cabins are their easy to assemble & disassemble, weather resistant, robustness and allied features. We also seek to provide tailor-made cabins for which the specifications are laid by the client itself depending on their requirement.
Why Choose Us?
The factors of our company for which we should be selected over other portable cabins manufacturing companies are mentioned below:
Our cabins are sound and water proof
Our business practices are fair and transparent
Our payment mode is simple and flexible
Our goods transportation and installation is done on time
Our customer attain cent percent satisfaction from us.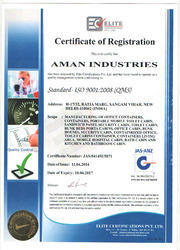 Read More